Bookings & Blogs are a great way to stay current with all things Kwikstep! Feel free to contact me for most styles  as a solo performer or in a group setting. Looking forward to hearing from you. Contact Steve or Visit Steve on Facebook.
I enjoy performing live and in the studio almost as much as I enjoy teaching. My first performance was at my school talent show. I was 10 years old. Two years later I joined my first band. Playing live can a be exhilirating and also a learning experience.  In conclusion studio work is more about accuracy for every note.
I enjoyed performing often with Mother West recording artist The Sound of Monday in NYC. Some of the gigs included Arlene's Grocery, The Living Room and Brownie's in Manhattan.
I had the great pleasure of sitting in with  legendary James Brown bass player Fred Thomas at Freddies in Park Slope. Always a pleasure dealing with Mr. Thomas musically or otherwise. What a Blast!
My First Show With Dappa Don ROCKED!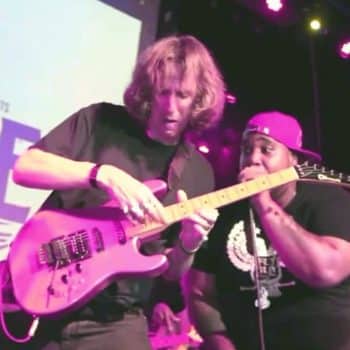 Dappa saw me playing a show with his dad at the Basement Bar in Brooklyn. After the show Dappa liked the show so much he asked me to perform  the next night at the world famous club SOB's in NYC. No rehearsal.  I never even met  most of the band. What a night! Since then we've played The Five Spot and the Paperbox in Brooklyn.
I also performed extensively  with the Contemporary Gospel group Dave James. We then appeared on TV in a holiday special at Time Warner Cable Studios. The music begins at 2:15. I have a featured solo on the song" Jesus Christ: The Main Event" at 29:25. Click on the link: Dave James Christmas Special at Time Warner Studio We also performed at an outdoor show at the Back to School Music festival in Massachusetts. I continued to perform with Dave at the JAMS (Jamaica Arts & Summer Festival) a couple of years ago. Still another gig was at Five Towns College in Dix Hills NY.
I've done quite a bit of studio recordings including working with Chris Crown, Brooke Lynne and Pop Chris. I played guitar on Chris Crown's Searching For You single. I also recorded with PopChris who has credits with Shaggy, Rayvon and Esco.  Most recently I had the pleasure of recording with grammy nominated producer A Kid Named Cus at Mercy Studios in NYC. Brooke Lynne who recently had her single "Wavey" was the vocalist on the cut. Check out a clip on Instagram.  Brooke Lynne on Stars Align