Does the idea of a
"One Size Fits All"

music lesson sound boring? How could a person's music needs be satisfied with this approach.
---
The KwikStep Method specifically targets the individual. Your level of interest, type of music and ability are all extremely important in attaining the best possible results. I've not even mentioned what I consider to be the single most essential ingredient in gaining the greatest success...
Confidence!
---
Confidence is paramount in achieving a winning attitude! The first step in encouraging confidence is to diminish any amount of anxiety or lack of confidence the student may have. When a student or parent of a student tells me they've never played before, my response is "That's The Best Thing You've Got Going For you". I suggest that any student relax and do what comes naturally.
Experienced Teacher
---
Take advantage of my three decades of experience and relaxing approach. I enjoy creatively overcoming any potential difficulties a student may encounter. So relax and enjoy.I find the secret to teaching is leading a student toward the goal instead of merely offering the solution. It's all about THE INSPIRATION!!! not the information.It's all about YOU!!!YOUR INTERESTS!!! YOUR MUSIC!!! The Kwikstep Method "A SYSTEMATIC PATH OR WAY TO SUCCESS!!!
About me
---
Steve Stanzione : Creator of the revolutionary Steve's Kwikstep Music Learning Method
In the summer of 1982, I taught my first guitar lesson, at the age of 16. I then attended Five Towns College and Berklee College of Music on a full tuition scholarship.
Blog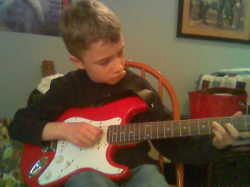 MY MUSIC LESSONS ARE A BLAST!!!
Are you tired of taking one "One Size Fits All" Music Lessons? Let my revolutionary Kwikstep Method transform your dreams into reality! Guitar, Bass and Piano Music Lessons are available. Experienced Pro helps you to reach your unique and individual goals. Don't let a lack of confidence or thoughts of not being good enough stand in your way. My revolutionary Kwikstep Method insures fast results. Don't wait another minute! Act now!
 HOME LESSONS ARE AVAILABLE!